​Hope is Growing 2021 Photo Essay Program
Richer
Richer is a small town of around 600 people located in the RM of Ste. Anne. It is a vibrant community serviced by several volunteer organizations and businesses, and it continues to grow. New businesses are being built, apartments going up, roads being paved, tourist attractions being added. The town is blooming, and it is our intention to help achieve, to the best of our
ability, a 5-star rating with Communities in Bloom.
This is Richer's first year participating with CiB, and it has been a bit of a rough start. But there is a need here, and there has been communication with all the volunteer organizations, and Richer CiB has been greeted with much enthusiasm. As such, our first report will be on the state of the town currently. But wait till we really get going.
Landscaping
There has not been any coordination with the landscaping aspect in Richer, and that is where we are hoping Richer CiB can come into play in a big way. As mentioned, Richer is growing. A new gas station and shops are being built at the entrance to town off Hwy #1, and when complete the entrance to town will have a fresh look. Richer CiB has also been asked to complete the pergola recently built at the park with native wildflowers.
Heritage Conservation

This is an area where Richer excels. The Dawson Trail Museum is located in an old church, which is itself a heritage site and has seen extensive renovations over the last few years. The Dawson Trail Arts and Heritage Tour will be through Richer, where 2 exhibits are being erected. The Dawson Trail Park strives to maintain it's development according to the history of the town. Obviously, Dawson Trail is where our history lies, and this coming weekend there will be a huge event, throughout the town, celebrating the francophone, indigenous, and Métis cultures as they were 150 years ago.
Urban Forestry

Richer is in the forest, just 5 minutes after you leave the prairies. Many properties have several acres that are entirely forested. Even the smaller "city sized" lots will contain several trees. There is usually a general attitude, when there are so many, that "trees be trees" and more is better. (Personal observation). It is our hope to change the attitude a bit by providing educational programs to plant, prune, and learn more about the trees around us. Putting any kind of tree ordinance in place would be a stretch. Richer CiB has, however, suggested to the RM of Ste. Anne that they should have a tree service on retainer in case of emergency. Richer CiB has also planned a weekend in October where a chipper will be rented.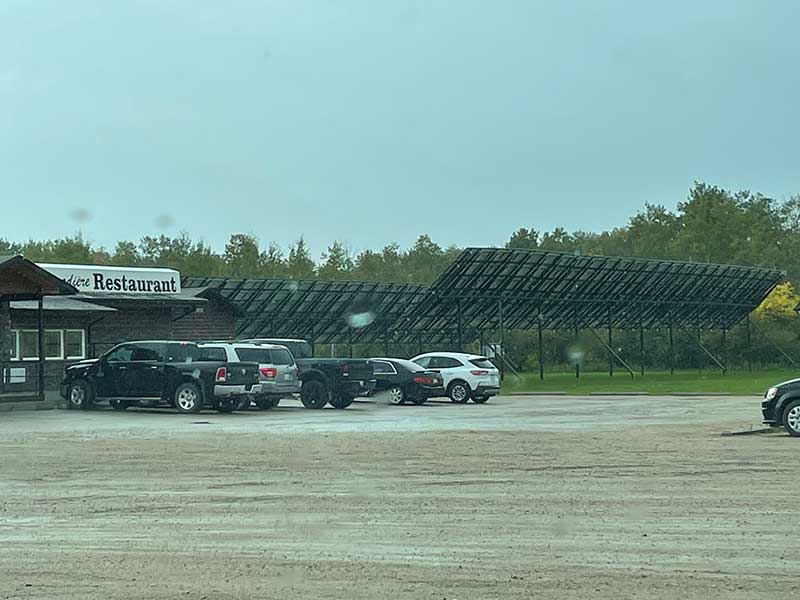 Environmental Action

Richer has a weekly curb side garbage pickup. Recyclable waste is picked up at the Richer Husky who have kindly allowed use of the space. Burnell's Food Plus has not had plastic bags for years. The Richer Inn obtains almost all its power with solar panels.
Tidiness
This has not been an issue that CiB Richer has felt a need to deal with.  Properties and businesses are generally well kept. The elementary school does an annual spring cleanup, and the LUD sponsors an annual metal collection. Several of the community organizations have "green teams" that are a great help.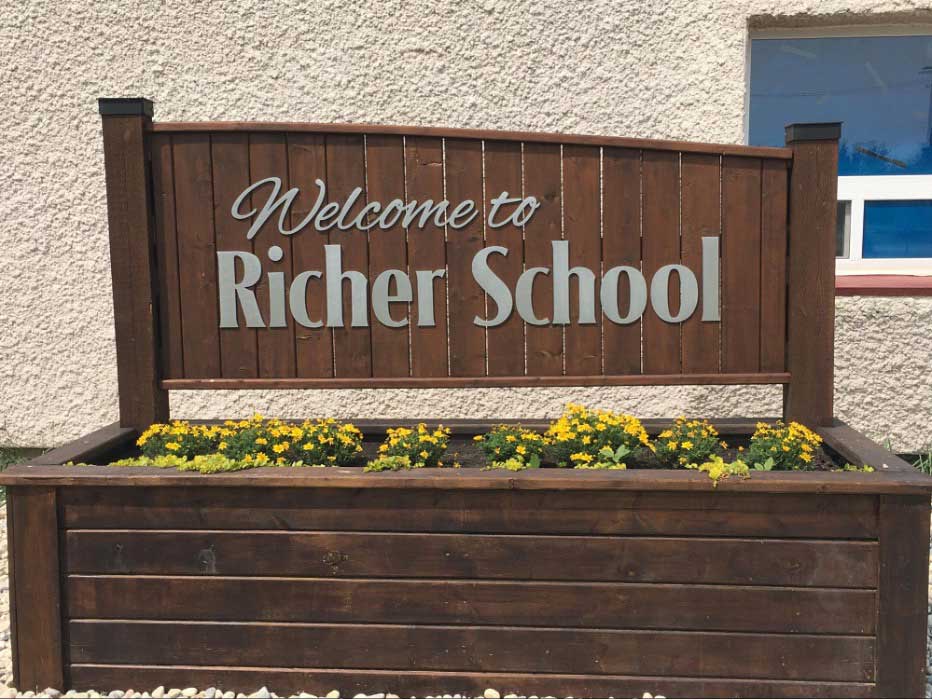 Floral Displays

About 10 years ago an attempt was made to have floral displays in Richer, but on account of watering issues this was unsuccessful. This year it was nice to see that the Museum had a nice display of yellow flowers, as did the school. The MMF also had displays along one intersection. Having the green team taking care of the watering proved the key to success this year. Richer CiB has also been fortunate to have been gifted a trailer that holds 100 gallons of water from the Richer fire department, so our future need should be taken care of.
We hope you have enjoyed your tour of Richer, and are hoping to be able to show off our town in person next year.